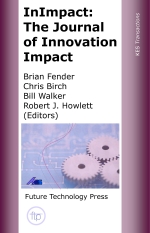 The Journal of Innovation Impact is an international peer-reviewed journal that publishes fundamental and applied research on the impact of innovation, knowledge exchange and entrepreneurship, from around the world. A wide range of disciplines and domains are covered, including management and business, engineering, sustainability and medicine.

The Journal provide a means of disseminating ideas, best practice, results and developments in relation to the field. It publishes scholarly and practitioner-oriented papers, case studies, review and survey papers. Authors are encouraged to submit papers based on research, developmental activities and state of the art best practice.

The Journal is published online and is completely open access, providing excellent visibility. No fees are payable to read and download the papers, and no password is necessary to do this.

Editors
Sir Brian Fender
Prof.Chris Birch, University of Greenwich, UK
Dr Bill Walker, University of Hull, UK
Prof. Robert J. Howlett, Bournemouth University, UK