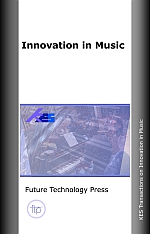 The music industry is going through rapid change with the evolution of considerable innovations, in social, technical and moral areas. KES Transaction on Innovation In Music brings together leading academics and industry practitioners within the UK and Europe to analyse, evaluate and report on the interface between the artist through the industry to the consumer.
Transactions on Innovation in Music welcomes academics, artists, producers, engineers, music industry professionals and manufacturers to submit contributions for consideration on a wide range of topics relevant to recent innovations and developments in the music industry.
Articles published here may have been presented at an 'Innovation in Music' conference, or in some cases might have been directly submitted to the Journal.
All papers published will have been peer reviewed to a level appropriate to the publication.